About me
Some words about my work
Pleasure, I'm Alessio and I'm a wedding photographer in Tuscany.
Before being a photographer I am a very enterprising boy; I like to continually challenge myself, experiment with new things and give life to my passions.
In my spare time, there's nothing I love more than listening to old-time music.
My ``guru`` in music is Fabrizio De André, the greatest Italian singer-songwriter of all time in my opinion.
I am happily engaged to a beautiful girl and I love my two beautiful dogs.
What do I do in particular in my job?
Nothing, I try to tell with the utmost simplicity and spontaneity the love I perceive in the people who are in front of me without creating surreal or out of the ordinary situations.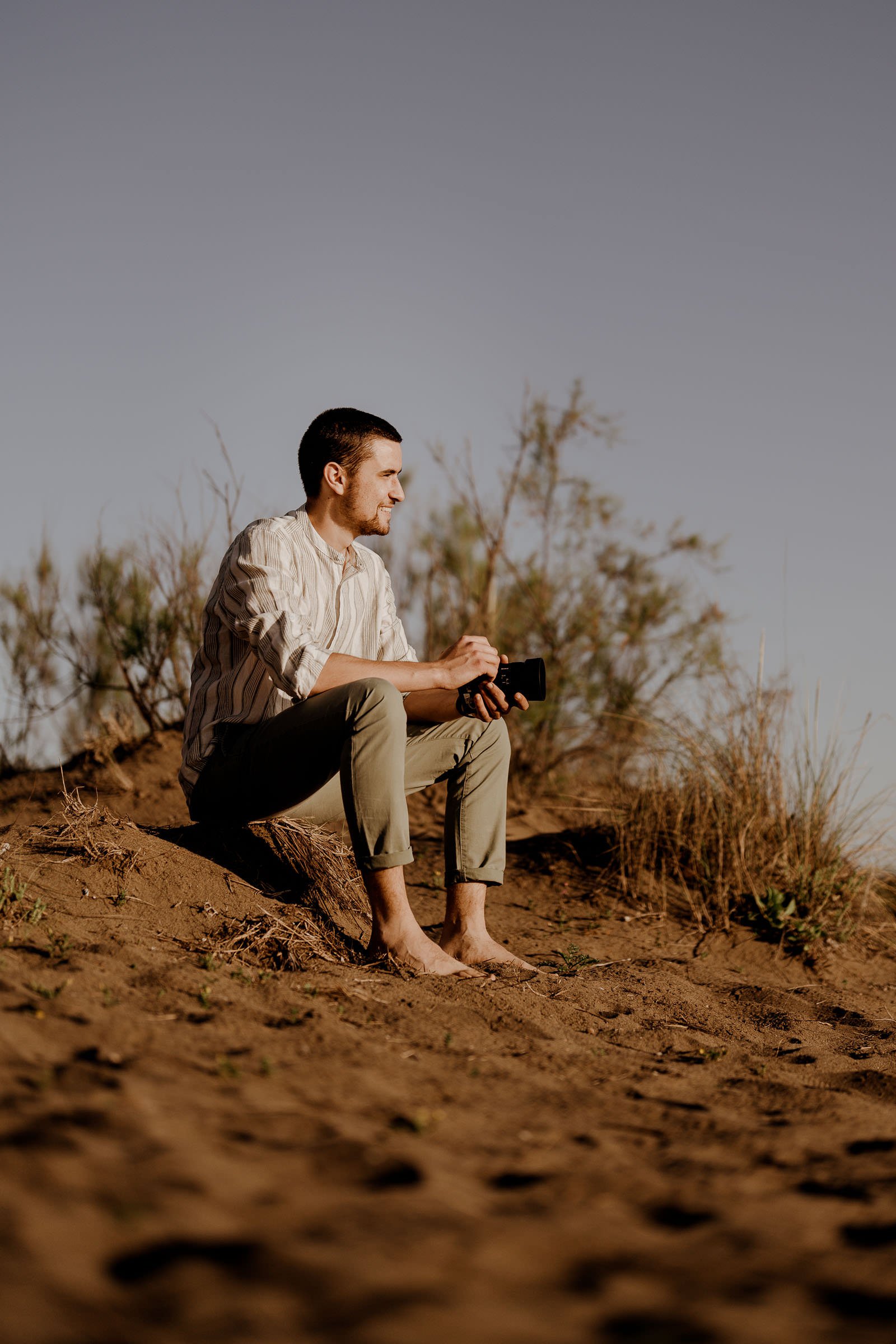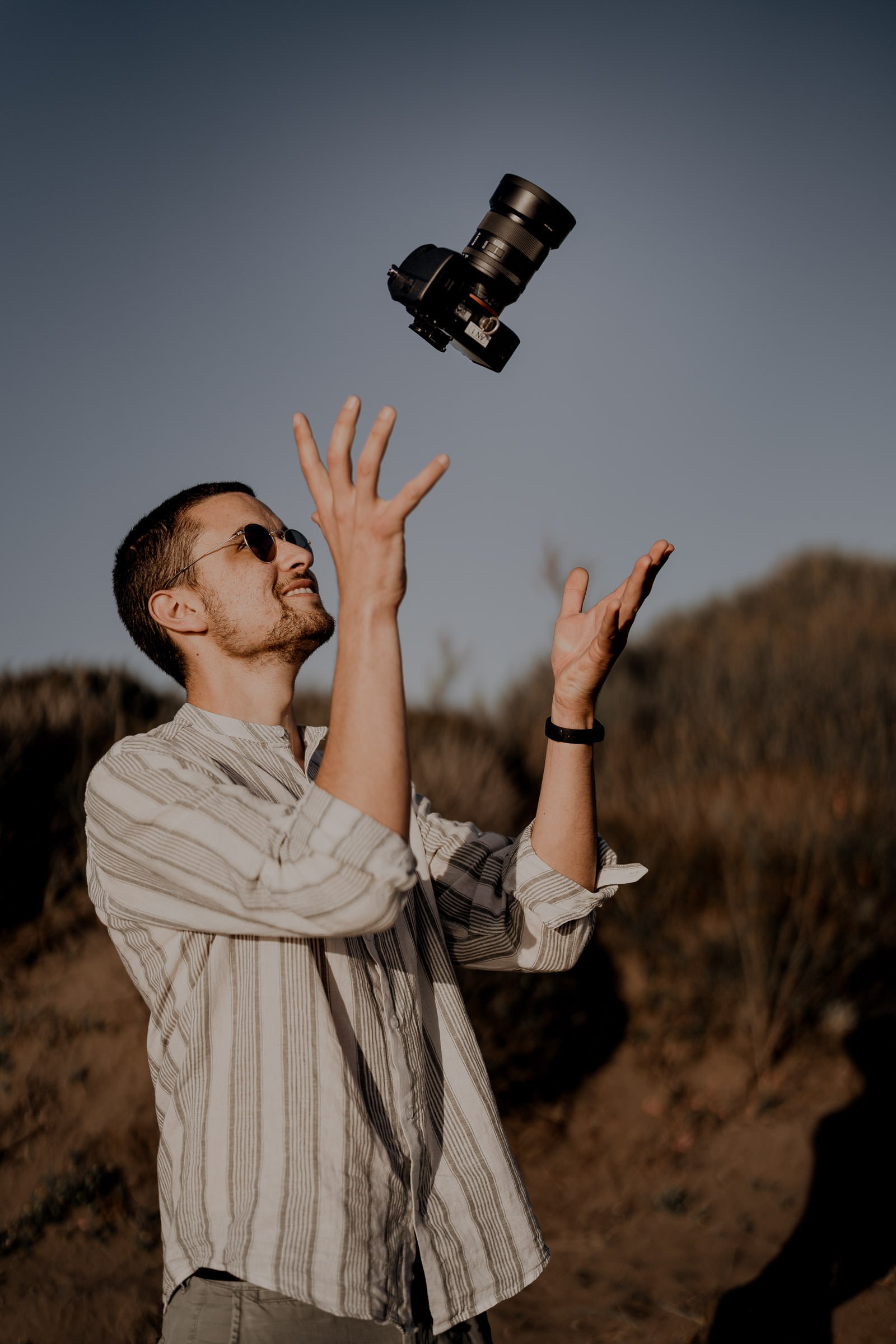 Wedding photography
Why wedding photography?
I've always been a seemingly ``tough`` guy but with a soft heart and that's why I melt in front of those weddings where you really breathe love.
My activity as a photographer started many years ago and at the beginning I certainly didn't think I'd find myself embarking on this professional direction.
I began to approach the world of weddings thanks to some acquaintances in the sector and intrigued by the results they were able to obtain, I decided to give it a try, to get involved and to start telling the weddings of those who immediately believed in my own style. In me.
Right from the start I found a strong approval and a great request especially from friends and acquaintances.
So on until I was able to expand my horizons also approaching customers from all over Italy and abroad.
Reviews
Some reviews from my clients
Alessio è un fotografo molto competente, bravissimo e con molte novità per fare foto moderne...e inoltre sa cogliere l'essenziale e la semplicità delle persone..che fotografa..
Creative Venturina
23/10/2023
Alessio è un ragazzo molto professionale, preciso e capace di metterti a tuo agio anche se non sei un'amante dell'obiettivo; Molto disponibile e velocissimo nel consegnare il progetto, capta al volo le tue necessità e quello che ti piacerebbe fare. Inoltre è una persona molto onesta, cosa da non sottovalutare nel suo ambiente. Giada&Marco
Sarah Rosenberger
22/10/2023
Alessio is a great communicator and was super helpful leading up to the wedding. On the day itself he was amazing and really understood our specific requests. We got the photos pretty quickly after and LOVE them so much. Thank you, Alessio!!!
Rachele Garbuglia
22/10/2023
Il migliore!!! Foto bellissime e molto naturali, Alessio ha immortalato il nostro matrimonio con professionalità e facendo degli scatti naturali ma mai banali, tutte le nostre emozioni le possiamo ritrovare li, nelle sue foto ❤️
Alessio did a wonderful job capturing our wedding! He even arrived earlier than us so he could look around the area to get ideas for photography. He was professional, polite and easy to work with. The sneak peak pictures we have gotten so far turned out better than expected! I love the pictures he captured because we get to relive that day over and over. Just a beautifully done job! Thank you so much!
Abbiamo chiamato Alessio per le foto del nostro matrimonio, persona molto precisa, affidabile e puntuale. Abbiamo deciso insieme in studio tutti i vari dettagli e gli orari della giornata, in piena condivisione con lui. La giornata è andata ancora meglio del previsto, lui molto professionale e preciso anche nei tempi. Se avete possibilità di chiamarlo per un vostro servizio, 3 è come avere un amico in più! 😎😎
Chiara Bertolini
25/07/2023
Ho conosciuto Alessio tramite le sue foto su instagram, e mi hanno colpito subito perché rispecchiano perfettamente la mia idea di "foto bellissime"! Non mi sono mai piaciute le foto impostate e quasi artificiali che non trasmettono emozioni! Quindi ho contattato Alessio per il nostro matrimonio, e da quel momento mi ha colpito subito la sua gentilezza, professionalità e umanità! Le foto che lui scatta riescono a riportarti a quel momento esatto e a farti rivivere tutto, quasi come un film! Quindi che dire, affidatevi a lui, perché il matrimonio è un giorno indimenticabile e che non si ripete, per questo dovete scegliere il meglio!
Bruna Carvalho Bosshard
04/07/2023
Professionale, empatico, puntuale, fidatissimo e di ottimo gusto!
CM Event & Coaching
29/06/2023
Alessio is an amazing photographer. I booked him for a wedding in Paris, pictures are bellissima. Thank you so much, i will recommand you for my others destination weddings in Paris 🙂
Alessio è stato un professionista attento e disponibile, ci ha seguiti nel giorno del nostro matrimonio senza mai essere invadente, fotografandoci in modo semplice e spontaneo come volevamo. Ha colto tutti i momenti centrali della giornata e stampato foto sul posto che abbiamo regalato agli ospiti.
Want to know more about me?
If you want more information or simply if you want to contact me then do it here